This post contains affiliate links. Read my full disclosure.
It is never too early to start teaching your child about our planet and how we can help take care of it! Earth Day is the perfect opportunity to do just that. These 9 ideas are all suited for a toddler or preschooler and will make celebrating Earth Day with your child fun and engaging!
#1 Make An Earth Suncatcher
This craft always turns our really cute no matter what, which makes it perfect for a toddler! Manipulating the small, thin pieces of tissue paper requires quite a bit of fine motor control, so it provides an age-appropriate challenge for a toddler. I think it's helpful to show your child a picture of what the Earth looks like from space so they have an idea of what you're trying to make.
What you'll need:
a piece of waxed paper cut into a big circle (any size will work)
small pieces of green and blue tissue paper, either torn or cut into ~1 inch pieces
school glue
paintbrush
piece of twine or ribbon to hang your suncatcher
Step 1: Start "painting" your waxed paper circle with school glue, working in small sections at a time. It works well for the adult to be the "glue painter", and let the child place the pieces of tissue paper.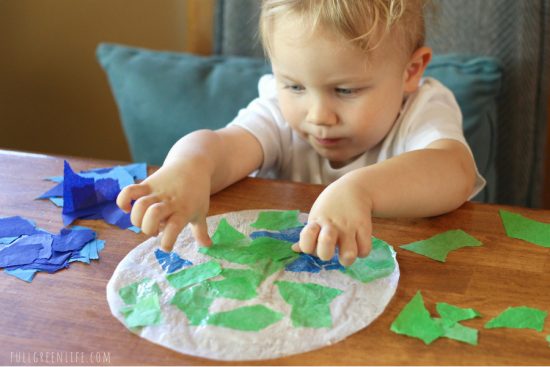 Step 2: Have your child stick the pieces of tissue paper onto the glued sections. Once a piece is stuck down, "paint" over it with the glue to seal it onto the waxed paper. It's good if the tissue pieces overlap some since this will create a fully covered "Earth."
Step 3: Continue this process, section by section, until the entire Earth is covered with tissue paper and covered again with a coat of glue. Don't worry when the edges of the pieces go over the side of the waxed paper circle. Just trim it up at the end to make it a nice circle again.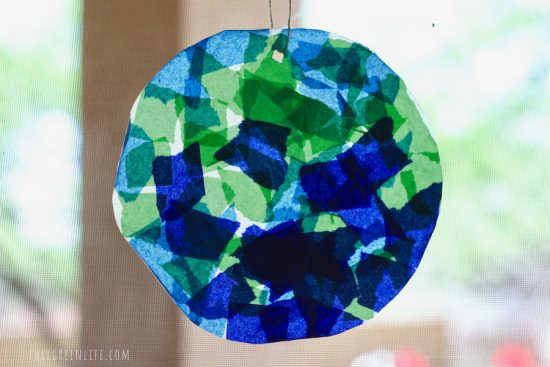 Step 4: Allow to dry. Once completely dry, hole punch the edge and loop a ribbon or twine through. Hang it on a sunny window and watch your toddler's world shine!
#2 Read The Lorax by Dr. Seuss
This sweet story is one of my favorites. It is about the serious topic of what happens when the environment is not protected, but it's told in the rhyming prose of Dr. Seuss. Written in 1971, it is so relevant it is almost like he knew where our world would be today. The tale has a hopeful ending, when the reader learns that even just one person who cares very much about the environment can make a difference. Kinda what us crunchy moms are preaching all the time, right? So read this one on Earth Day, and talk about it on your child's level. If you don't have this book, you can get it here. It is the inspiration for the next two craft projects!
#3 Plant Your Own "Truffula Tree"
Planting a flower or a plant for Earth day is a perfect activity that a toddler will love to complete. Make it a truffula tree from The Lorax, the book you just read, and it's even more fun! You may need to use your imagination just a bit, but I have always thought celosia plants were very "Seuss"-like. Don't you?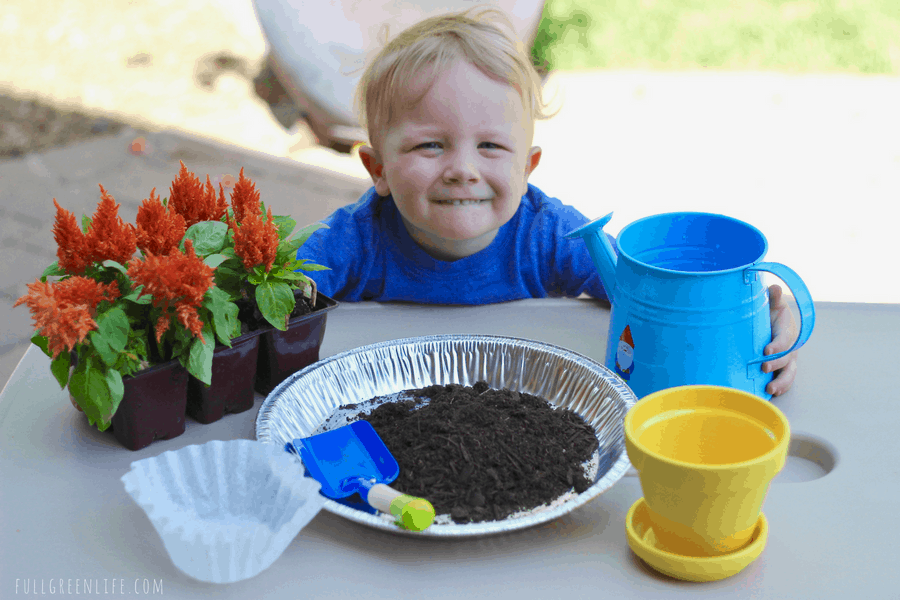 Supplies you'll need:
a Celosia flower from a local nursery or Home Depot
potting soil
a spoon or shovel
small pot with a drainage hole
coffee filter (optional, to keep the soil from draining out the hole when you water the plant)
Step 1: Set the coffee filter in the bottom of the pot and cover with soil.
Step 2: Have your child spoon some soil into the bottom of the pot.
Step 3: Have your guy or gal set the "tree" in the pot, and then hold it there while they spoon soil in all around it until the soil is even and packed firmly.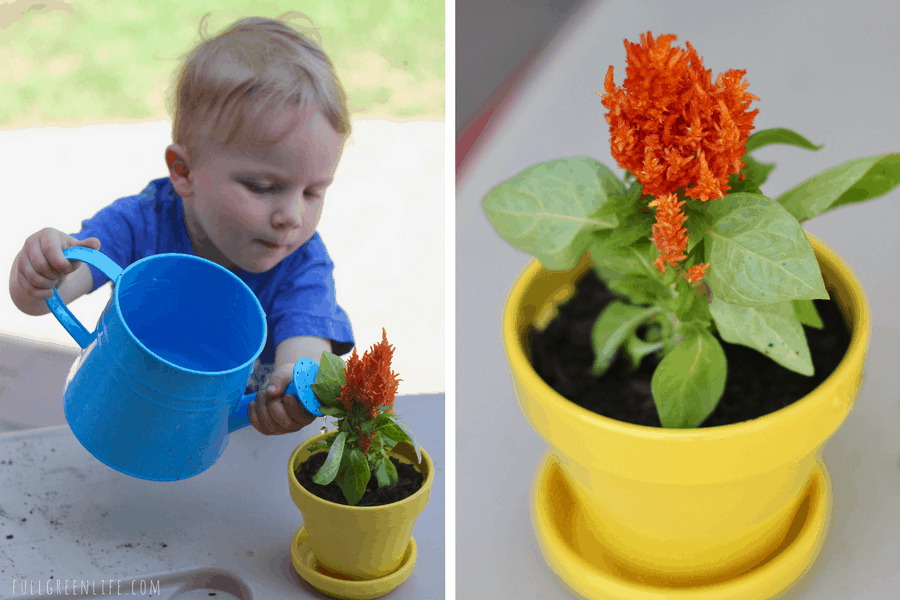 Step 4: Together, find a nice partly shaded spot to keep the "Truffula tree" and help your toddler keep it lightly watered.
#4 "Speak For The Trees" Potato Stamp Art
One more "Lorax"-related craft, this stamping artwork is a fun and creative way to use nature! If you've never heard of potato stamping, it is just what it sounds like: using a potato as a stamp.
What you'll need:
a big potato like a Russett
a sharp knife
paper suitable for painting
poster paints or finger paints-just make sure it's washable!
a marker
Step 1: Make your stamp. Do this first part without your child around since it requires a bit of focus and a sharp knife. Start with a potato cut in half. Use the point of a sharp knife to outline the shape of the truffula tree on the cut end of the potato. Once you have your design outlined, it's time to start cutting away the potato all around your design with your knife. It doesn't have to be perfect. This activity is fun even if you just use the uncarved potato!
Step 2: Show your toddler how to dip the potato stamp in the paint and then stamp to make an impression. Try to get a few imprints in the top half of a page and then swap it out for a second page to let your toddler go crazy stamping. The first page will be your "Speak For The Trees" artwork.
Step 3: Once the paint has dried, draw in your trunks and your "Speak For The Trees" saying with a marker, and you're done! Find a great place to proudly display your child's work, or even frame it for a longer-lasting masterpiece!
#5 Let Your Toddler Choose Some Fresh Produce
This can be a fun thing to do any time, but particularly for Earth Day. Bonus if you take a reusable produce bag to use! Show your toddler the rainbow of colors in the produce section and tell him or her that the entire rainbow is healthy for our bodies to eat and was grown in the ground. If you want to make this into even more of a learning activity, ask what color your toddler would like to pick out to take home and eat and go hunting for that color. Before I could even get to talking about colors, my toddler declared that he would like carrots, so carrots it was.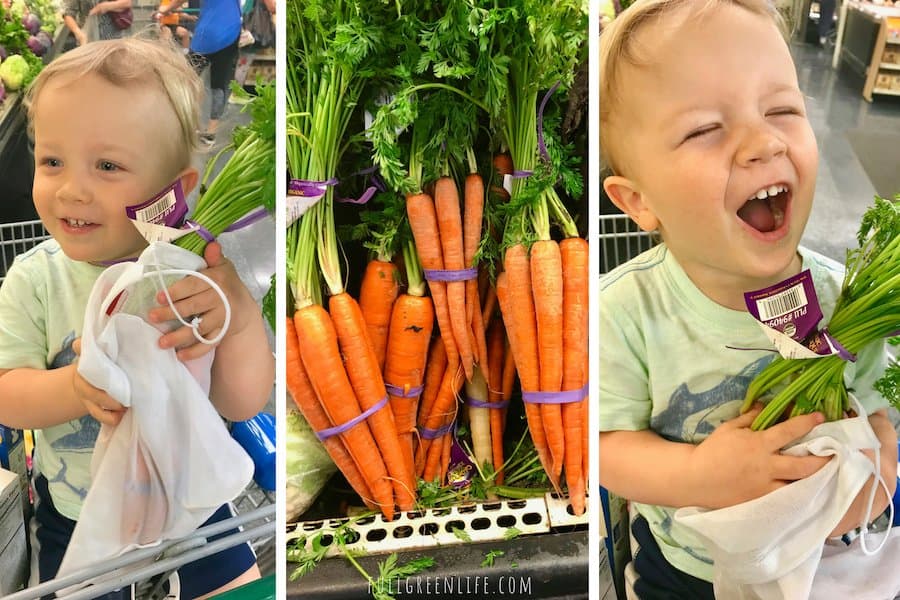 #6 Give a Reusable, Recycled, and Recyclable Gift
If you are a gift-giving kind of person and would like to offer your toddler a small surprise for Earth Day, I have two great suggestions for you. We use both of these items every day, and although they are both very utilitarian, my toddler truly loves them both. I have not been paid to recommend either of these products. They are just both awesome, so as a fellow mom, I want to share them with you.
The first is O's Klean Kanteen stainless steel sippy cup. The adults in our house use stainless steel water bottles, so I looked for a long time for something similar for O. Most of the ones out there are made for older kids who can be trusted not to chew a sport cap. We are not quite there yet. This Klean Kanteen one has the option of a sport cap OR a sippy lid. With the sippy lid, it is totally leak-proof laying on its side. You can buy the sports cap separately later when your child is ready and use it on the same bottle. The lids are BPA-free. We recently bought a second Klean Kanteen Sippy to have as a back-up. You can get one on Amazon here.
The second item I recommend is the RePlay brand recycled plastic plates. We love the divided ones, but they also make an open, non-divided version. These are plastic, but they are made out of recycled milk jug plastic that is BPA-free and they come in a rainbow of bright colors. AND they are made in the USA. The thing that makes Replay better than other plastic kid dishes is how deep the plates are. Each compartment is almost like a bowl, which makes it much easier for my toddler to use his spoon to scoop food out. We even put things like yogurt and cereal in his plate, instead of using a bowl.
#7 Make a Bird Feeder
This is a really fun project for little ones since they will be able to enjoy the fruits of their labor (and kindness) when they see birds munching on the treat they provided.
Supplies you'll need:
empty toilet paper cardboard tube
sunbutter or peanut butter
bird seed, spread out in a pie tin, box or tray with an edge
popsicle stick or spoon
a piece of string, yarn, or ribbon for hanging
Step 1: Using a spoon, or another safe tool, help your child spread a layer of sunbutter all over the outside of the tube.
Step 2: Have him roll the coated tube in the bird seed, pressing slightly so the seed will stick into the sunbutter and coat it completely.
Step 3: Feed your string through the tube and tie the loose ends together, forming a loop for hanging.
Step 4: Find a spot to hang your feeder. Then step back and watch for your feathered friends to find their Earth Day treat!
#8 Earth Day Playdough
Mix up a batch of playdough in blue and green. Use the playdough to make the earth, talking about the green being land and the blue being water. You can also get out some animal figures and make a playdough setting for them with land meeting the water, and play with the animals in the part of the habitat where they would be found.
Supplies you'll need:
1 cup flour
1 cup water
1/3 cup salt
1 T canola oil
2 tsp. cream of tartar
food coloring (gel colors yield more intense colors-they have them at Walmart or Amazon)
essential oils (optional)- I used 2 drops each of marjoram for the blue water and cedarwood for green land
Step 1: In a saucepan, mix all the ingredients minus the food coloring over low heat. Keep stirring throughout.
Step 2: Watch for the mixture to begin looking less wet and pulling away from the side of the pan. It becomes drier as you cook it, so you don't want to cook it too long.
Step 3: As soon as it looks like a soft, cohesive playdough consistency, remove the dough from heat and put out onto a plate. Mine takes about three minutes, so we are not talking about a long time at all. I took the photo below right before taking it off the heat so you can see what it should look like.
Step 4: As soon as it is cool enough for you to handle, which is usually almost immediately, divide it into two parts. Color one part with blue dye, and color the other with green. To color the dough, simply use the tip of a knife or a toothpick to transfer a small amount of dye to the dough, then knead with your hands until the color is distributed. If you need more intensity, just add more dye. I use a toothpick and dip it in the gel dye, kind of scrape it off onto the dough, and then repeat one time. A little goes a long way, and this was plenty to give the color intensity in the picture.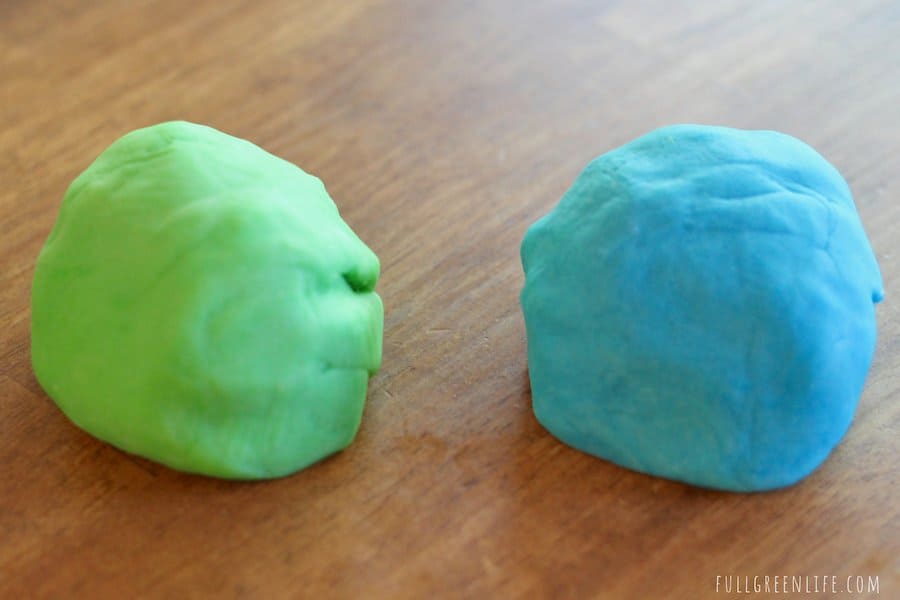 This recipe can be kept in an airtight container like a mason jar for several months at least. Discard if it starts getting yucky and just make a new batch!
#9 Make A Bird Nest Ball
This little craft is for the birds! I mean that in the best possible way. ?Collect little scraps of yarn or twine or any other supplies a mama bird might be able to use when building a nest for her babies.
Supplies you'll need:
a netted bag left over from purchasing produce like clementines or onions
assorted short pieces of yarn, twine, ribbon, or other small scraps
some small twigs from outside
a longer piece of twine or yarn to hang the finished ball
Step 1: Start by tying a knot near the end of the netted bag.
Step 2: Fill the bag with your collected nesting materials.
Step 3: Now, tie another knot at the top of the bag.
Step 4: Tie on a loop of twine or yarn to the top for hanging.
Step 5: Pull out the ends of some of the scraps of yarn etc. to help the birds find it. Then, hang from a tree.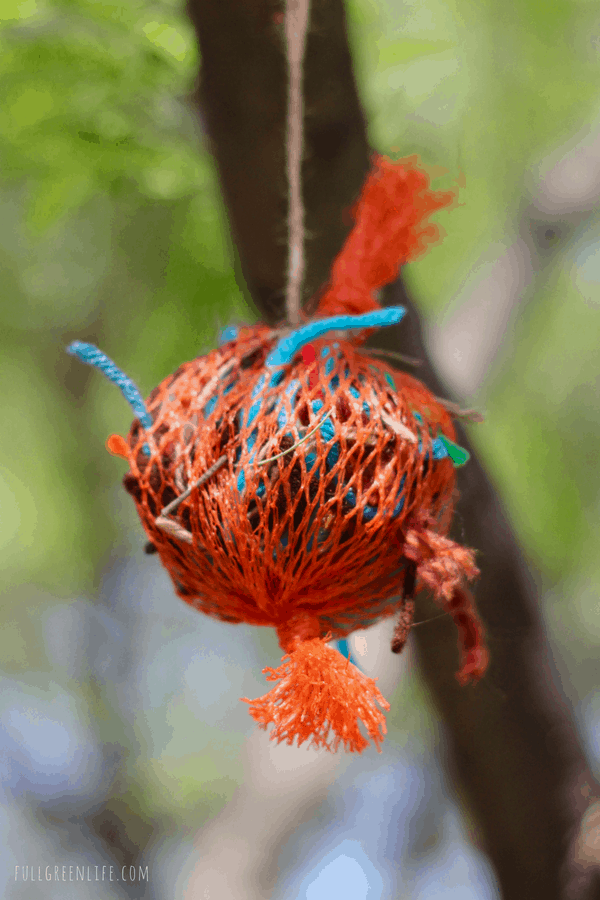 Keep an eye out for bird nests built with some of the scraps you supplied!
I hope you enjoy these Earth Day activities as much as my toddler and I do!
Happy Earth Day!
You might also like…