Make your own gift tags easily and inexpensively with this simple tutorial!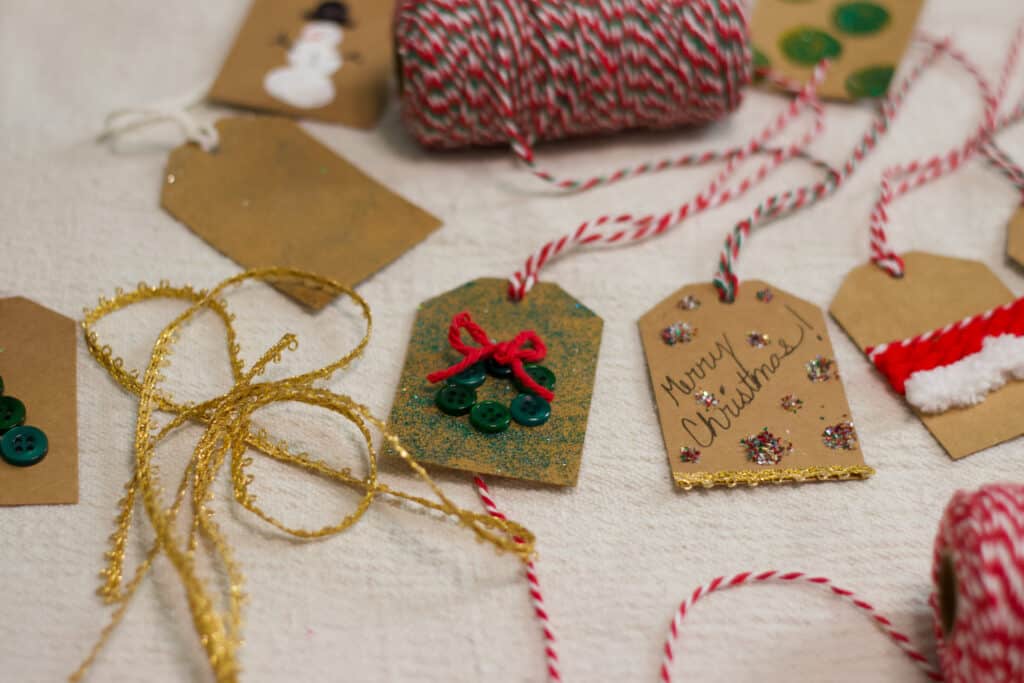 This post contains affiliate links. Read my full disclosure.
With the holiday season quick approaching, I wanted to share how I've been DIYing my gift tags for the past few years. Before I made my own, I was always annoyed at how expensive the really cute gift tags are. And, I always seemed to be out of them when I needed a tag for a last-minute gift.
So eventually, I decided to develop a system to make my own gift tags. And it saves me so much time and money. And now, I never find myself out of cute tags when I need one.
Supplies for handmade gift tags
There are different tag punches available, but I am partial to Fiskars brand. I do a lot of sewing and DIY projects, so I've used numerous tools over the years and have always found my Fiskars to be the most reliable and remain sturdy year after year.
The tag punch itself comes in different styles, shapes, and sizes to choose from. I bought the simple one pictured below, but you might prefer one of the others. The process (explained in the next section) will be the same for whichever punch design you choose.
Cardstock
I like to use brown Kraft paper cardstock for a natural look that is great for any occasion. But you can use any color you like, or even keep an assortment of colors so you can match your tag to whatever gift wrap you're using.
Keep in mind that if you use a heavyweight cardstock as opposed to a thinner one, your tags will be a lot sturdier. I typically use 100-pound. There's nothing wrong with using a thinner, lower-weight cardstock, but be aware that if your tag gets bumped in transit to its recipient, it's more likely to bend or crease the thinner it is.
Pen or Marker
The possibilities for what writing utensil to use are literally endless and it's really up to you.
If one of my kids is signing the card, I often just grab a box of Crayola markers and have them use that. For older kids, colored Sharpies are a good option.
Another good choice is a basic brush pen. I have just recently decided to learn brush lettering, so I invested in a couple of brush pens to practice with. So far, the one below is my favorite.
It's considered a "soft" brush pen, meaning the tip has a lot of give to it and bends easily with increased pressure, creating a wider downstroke.
Twine or Ribbon
For a natural and "unfussy" look, I think a simple piece of hemp twine is the way to go to fasten your tag to your gift. For Christmas gifts, especially handmade ones, holiday baking twine looks really cute. You can also use ribbon, or even yarn.
It's really up to you, your preference, and the type of gift you're giving.
Stamps, Stickers, & Other Embellishments (optional)
I rarely add stamps or stickers to my tags, mostly because I always seem to be doing these things last minute. But, if you are willing to put in a little more effort than I do, I think it can add a special touch.
One option is to get a stamp that says "To" and "From" to stamp on your tags. Then, the giver can just handwrite the names in. If you have young children who give a lot of birthday party gifts to friends, this would make it easier for him or her to fill in the gift tag independently.
Another option that I do sometimes use especially around the holidays is to add a decorative sticker to the back of the tag. It just gives a little embellishment that makes it look more festive and Christmas-y.
If you are going to set aside to make a bunch of tags at once, it'll be worth your time to pull out more embellishments. Adding some glitter or custom artwork can really step things up. Items like buttons, small beads, fabric scraps, and yarn you probably have laying around and make super cute homemade tags.
The Best Craft Glue
Before you add any of the above details to your DIY gift tags, you're going to want to make sure you have the right kind of glue on hand. My favorite craft adhesive is Aleene's Original Tacky Glue. It's great for fixing a variety of materials to one another. It's also water soluble, has no fumes, is inexpensive, and dries clear.
Eyelets (optional)
The tag punch that I use has a separate slot that punches out a hole for tying your tag. It also has the option to press an eyelet into the hole. While it's not necessary, it does make the hole very sturdy which is definitely preferable in some scenarios.
I recommend you add the eyelets if you are gifting anything that might get jostled around a bit before delivery. Items like handmade gifts or Etsy products you'll be shipping, multiple gifts for all of your kids' teachers, or homemade holiday gifts you mass produce and then gift to friends and family.
When to use DIY gift tags
Use them all the time! I really only use DIY tags now that I have a tag punch. Here are some examples of gifts that can use DIY tags.
Christmas gifts
Birthday gifts
Housewarming gifts
Teacher gifts
Baby gifts
With the holiday season upon us, I will definitely be making some diy paper gift tags to use on homemade gifts for friends, family, teachers, and co-workers this year.
How To Make DIY Gift Tags
This is the fun part! Once you have all your supplies, it's time to get crafty.
How To Make DIY Gift Tags
Using a tag punch to make DIY gift tags is an easy and inexpensive way to personalize your gifts and homemade goods!
Active Time
20 minutes
5 seconds
Total Time
20 minutes
5 seconds
Instructions
Use the tag punch to cut as many tags as you can out of a sheet of cardstock.
Insert the angled end of each tag into the hole punch slot of the punch to cut hole.
Get creative! Add embellishments using whatever you have at home. Yarn, ribbon, fabric, markers, buttons, paint, dot markers, etc.