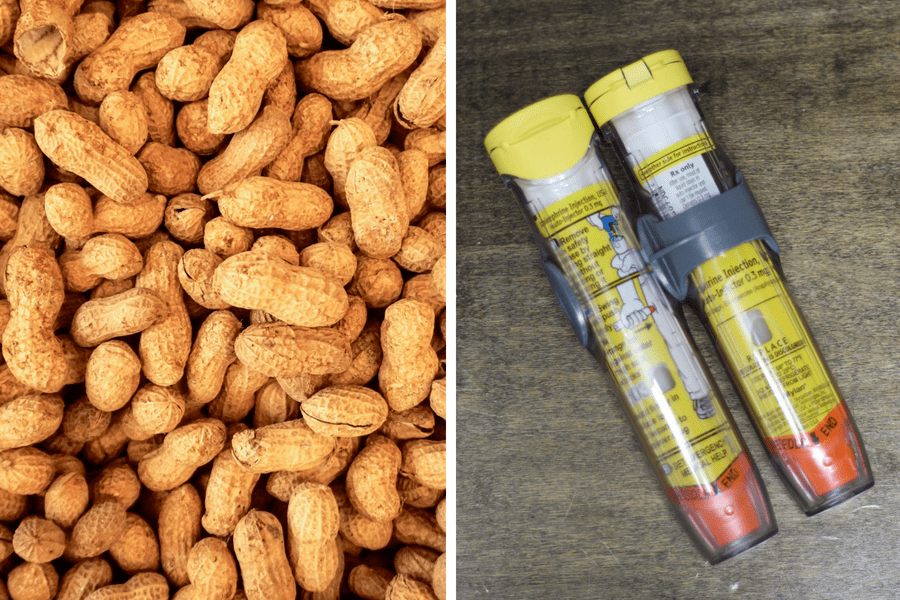 Like a lot of kids, my 13-year-old son has a severe peanut allergy. We discovered his allergy around his first birthday after a reaction to a bite of a peanut butter sandwich. We have had to roll with the punches over the past 12 years and we have learned a lot. One almost universal thing I have noticed is that unless someone has had personal experience with a severe food allergy, most people don't really understand it. I know I sure didn't until my son was diagnosed. 
*PLEASE NOTE: This post is simply intended to provide some background, information, and perspective from a mom of a peanut allergic child. It is NOT my intention to offer any specific medical advice or instruction.
If your child has a new friend or classmate with a severe peanut allergy, you and your child may be wondering a couple things.
What it means to have a peanut allergy

What you and your child need to do in order to help keep that child safe in his school environment 
What does it mean to be allergic to peanuts?
In any healthy person, the immune system's job is to identify and respond to bacteria, viruses, and basically any threat to the body. When someone has an allergy, the immune system produces a response to a protein in a substance. The allergic person's body reacts as if that protein is a foreign invader. When someone is allergic to peanuts, it means that their body recognizes one or more of the many proteins in peanuts as a threat. With many types of allergies, the body's reaction can include symptoms like itching, sneezing, hives, and a runny nose. This is not typically the case for a peanut allergy, however.
Things To Know About Peanut Allergy
Peanut allergy, as well as several other particular allergies, have a tendency to trigger an extreme systemic response called anaphylaxis. This fact is what makes peanut allergy different and often much scarier than some other allergies. Anaphylaxis is the nightmare scenario of any parent whose child is allergic to peanuts. It is a cascade of symptoms that progress toward anaphylactic shock. Anaphylaxis affects the entire body and multiple systems, including breathing and circulation. If not treated promptly with an injection of epinephrine, it can cause loss of consciousness and death.
Even a trace amount of peanut protein is enough to trigger anaphylaxis. If there is any amount of peanut on a surface, and an allergic child touches it and then touches their nose, eyes, or mouth, that is all it takes to trigger a severe reaction. Because proteins, not germs, trigger the reaction, simply disinfecting a surface will not get rid of it.
Peanuts contain many different proteins, and kids can be allergic to some and not others.   Some kids may be more likely to have a milder reaction like throwing up. Other kids like my son are more at risk for a severe anaphylactic reaction. It all depends on the specific proteins that are causing that child's allergy. Research on this is ongoing and tests that separate out the various peanut proteins are relatively new. A lot of parents may not know which proteins their child is allergic to. If you have known a child before who has a peanut allergy, you cannot assume that what was okay for him or her is safe for a different child with a peanut allergy.
Allergic reactions to peanuts are unpredictable and will vary from one instance to another, even in the same child. There is no way to know whether a reaction will stop at hives or progress to anaphylaxis. This is true even if a child has had a previous reaction that was relatively minor.
Being allergic to peanuts increases the chances of also being allergic to one or more tree nuts. Tree nuts include nuts like almonds, walnuts, cashews, and pecans.  These allergies can also trigger anaphylaxis.
As you can imagine, always erring on the side of caution is the safest stance to take when a child's well-being is at stake.
So…What does a peanut allergic child need in order to be safe at school?
When a person is allergic to peanuts, they are told by their doctor to live by two rules:
Avoid any contact with peanut protein.
Carry epinephrine with them always, in case of accidental contact with peanut protein.
As a parent of an allergic child, we have adapted our home and our everyday lives to do our best to ensure the two "rules" above. The thing we do not have control over is the risk of accidental exposure.
Here are a few ways a child can have accidental contact with peanut protein.
Another child eats peanut butter and has traces on his hands, and then touches the desk, classroom pencils, the water fountain, and the four square ball outside. Peanut protein has likely transferred to all of those things. 

Peanuts are served at a class ice cream party and kept separate from everything else, but someone "borrowed" the peanut spoon to scoop some sprinkles and then put it back. Now the sprinkles are "contaminated" with peanut protein.
Someone sends in cupcakes for a birthday and says there are no peanuts, but the package left at home was labeled with a peanut warning.
A student eats a peanut butter cookie with their lunch, and then accidentally drinks from a water bottle belonging to their friend who is allergic to peanuts.
All of the above scenarios are dangerous because there is no visible evidence of the peanut protein to alert the allergic child to be cautious. 
Helping to prevent an accidental exposure to peanuts is the best way that you can be supportive of a peanut allergic child.
Specific things to do if your child has a peanut-allergic classmate
If you are given a list of guidelines by your child's teacher or the school nurse, follow their directions to the letter.
If you send in treats or food for the class, always send in the packaging (or a specific list of ingredients for homemade treats) as well.
Even if your school doesn't require it, it is safest if you do not send any food that contains peanuts to the school. Sunbutter is a yummy alternative to peanut butter…your child might not even notice the difference.
If you forget and send something with nuts to the school by mistake, let the teacher and school nurse know right away so that they can take necessary precautions.
One Final Thought
Believe me when I say that parents of peanut allergic kids know that it can be an inconvenience to have to so carefully avoid peanuts. I have to think about it everywhere we go, every second we are with our son outside our home. I compulsively ask him every time we back out of the garage or as he walks out the door, "Do you have your EpiPens?"  Because if he forgets them even once, it could be a devastating mistake. When he was younger, it was even more worry and stress. Before he was old enough to understand his allergy, and before he could read labels himself, and advocate for himself, we relied upon the school community to keep him safe, including other parents. We have been very fortunate to have been met with support and understanding over the years, but sadly that isn't the case for everyone.
If your child has a classmate with a peanut allergy, please know that that child's parent only wants what all parents want: for their son or daughter to come home safely from school every day. And even though we don't always have the opportunity to say it, we are so grateful to parents like you who have our backs.
For more information on peanut allergy and other food allergies, visit www.foodallergy.org.