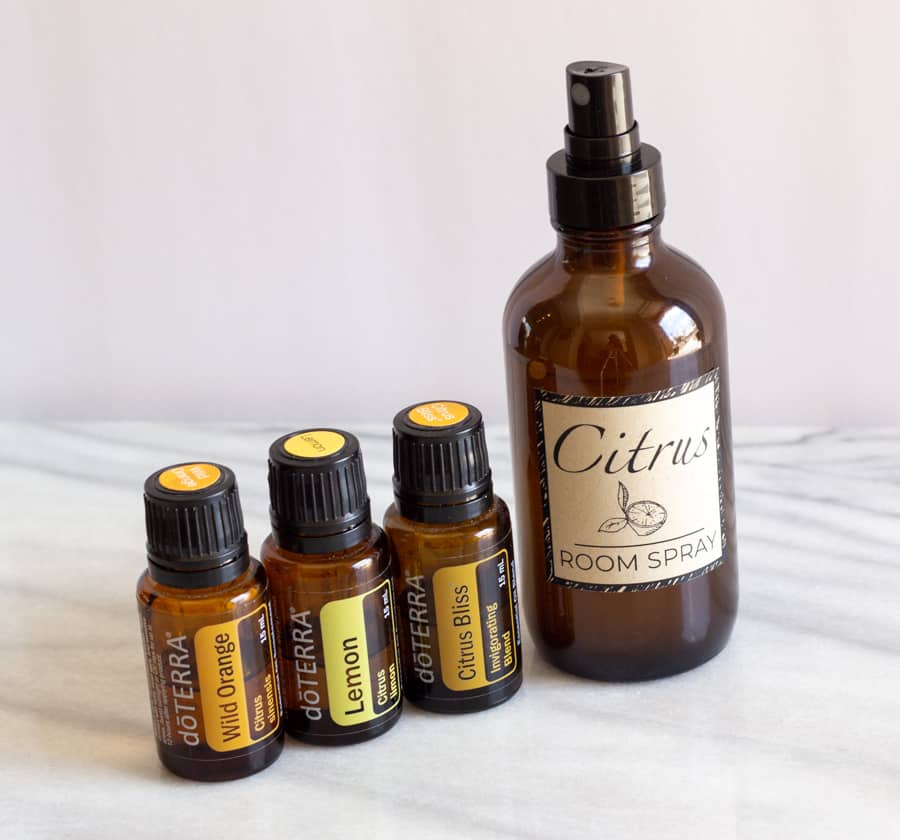 DIY essential oil room spray is a smart way to use your oils to create a fresh, welcoming home without added toxins. A room spray also makes a thoughtful, handmade gift for a friend or teacher. Keep on reading for everything you need to know to make your own natural spray.
This post contains affiliate links. Read my full disclosure.
The Problem With Artificial Air Fresheners
You've probably heard a lot by now about how synthetic fragrances are not healthy for us. In fact, "fragrance" used in home products, including air freshener sprays, can contain a large number of VOCs (volatile organic compounds).
The effect that VOCs have on people can range from asthma flare-ups and lung irritation to endocrine-disruption and carcinogenic effects. It's definitely not something you want to be spraying around your home and your family, so it's time to ditch the Febreze and Glade sprays if you haven't already.
4 Advantages of Homemade Room Spray
First and most importantly, homemade air freshener made with water, witch hazel, and essential oils is not toxic and is safe to use around your home, pets, and your family.
The cost tends to be lower than the expense of buying pre-made, artificially fragranced air fresheners.
The process of DIYing room spray is almost zero-waste, since you are reusing the spray bottle each time instead of buying single-use plastic bottles.
The thing that I most love about making my own room sprays is that you get to customize the scent and make exactly what you like!
Materials You'll Need
Homemade air freshener spray is really easy to make with just a few, common ingredients. And if you love your natural DIYs like I do, there's a good chance you already have everything you need.
Here's what you'll need.
Distilled water
Essential oils of your choice
Funnel (optional)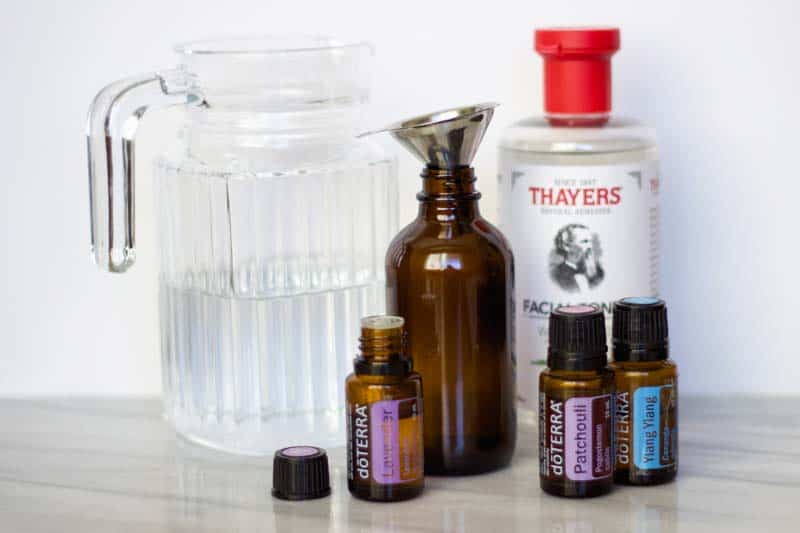 Distilled Water
It's important to use distilled water and not regular tap water in any DIY recipe, including this one. Tap water has minerals in it that can clog your spray nozzle as well as leave residue on the surfaces in your home. The other problem with using tap water is that it can grow out bacteria when left in a bottle for days or weeks, which will ruin your DIY recipe. Using distilled water will maximize the shelf life of your room spray.
Witch Hazel
Because we are combining oil with water, and oil and water don't mix on their own, we need an emulsifier to keep the room spray nicely blended. Witch hazel serves this purpose, and I always have a bottle or two in my home anyway. I like Thayer's brand (I also use it in my homemade eye makeup remover.)
Other Emulsifiers You Can Use
You'll see other recipes around the interwebs that use salt, aloe, rubbing alcohol, or vodka as alternative emulsifiers to witch hazel. Any of these will work. I tried rubbing alcohol but found that it added an antiseptic odor that took away from the essential oils. And, I will not be spraying vodka around my home in this lifetime. I have not tried aloe or salt, so if you do, please let me know your experience!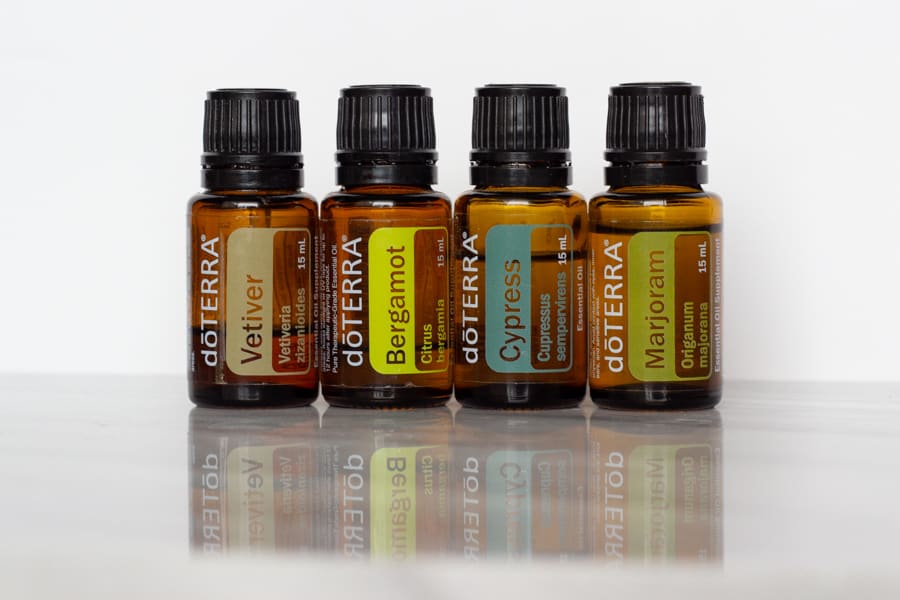 DōTERRA Essential Oils
I'm a dōTERRA Wellness Advocate and these are the ones I recommend. They are my essential oil brand of choice because I can trust that their oils are pure and therapeutic grade without any contaminants or added synthetic chemicals.
There are certainly other reputable manufacturers out there, but there are many more that are not good quality. Whatever brand you use, be sure you do your research so that you don't inadvertently add synthetic chemicals to your home when your intention is to be natural and non-toxic.
What Kind of Spray Bottle Should You Use?
I use and recommend these 4-ounce tinted glass spray bottles for room spray. Ideally, when you're creating any sort of solution that uses essential oils, you want to use a tinted bottle to protect the potency of the oils.
Glass is a good idea since certain essential oils, such as lemon, will break down plastic. If a plastic bottle is all you have, I recommend just keeping your batches on the small side and being aware of the potential interaction with the plastic.
I've found that the 4-ounce size is perfect to last a while before being used up, while also being small enough that I can have multiple bottles of different blends around the house. If you go through your room spray faster than I do or you just want a bigger batch, feel free to multiply the recipe as needed.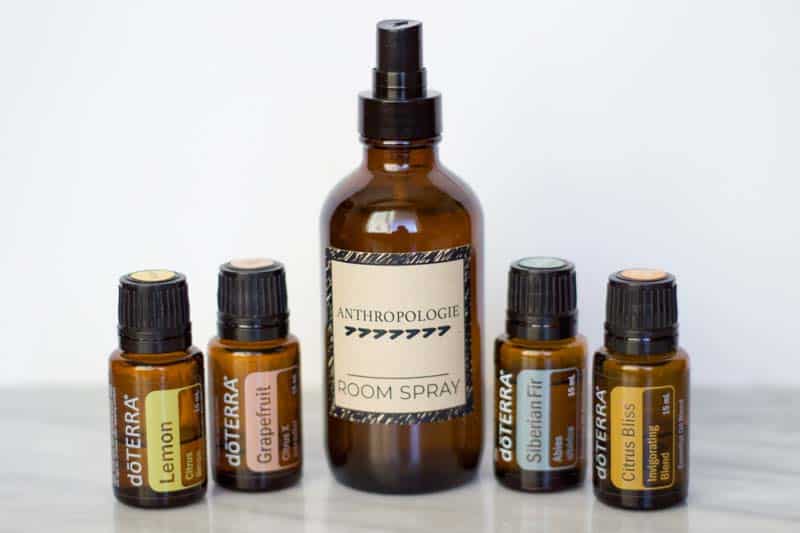 Essential Oil Blends & Concentration
Below are my favorite blends that I use in my home. 30 drops of essential oil per 4-ounce bottle is the concentration I have found that I like the best. That being said, if you find that concentration to be too weak or too strong, feel free to adjust accordingly.
In the basic recipe (at the bottom of this post), just use any of these specific oil combinations when it calls for the 30 drops of essential oils. Try out my blends, or create your own from the essential oils that you have. (The printable version of the blends below is available at the end of this post.)
12 Oil Blends for Natural Air Freshening
In a 4-oz glass spray bottle, combine 2 T witch hazel, distilled water, and one of the oil blends below to make your own, non-toxic essential oil room spray.
Citrus
This blend is perfect for use in bathrooms. It's also great for deodorizing your car if you have stinky, athletic teens like I do!
10 drops Lemon
10 drops Citrus Bliss
10 drops Orange
Spring
Fresh & flowery.
15 drops Lemongrass
15 drops Geranium
Boy Cave
I use this in my teen boys' room. It smells like pine trees and the woods.
10 drops Cedarwood
10 drops Cypress
10 drops Siberian Fir
Forest
Earthy and peaceful.
10 drops Siberian Fir
8 drops Frankincense
8 drops Copaiba
4 drops Arborvitae
Rain
Fresh, dewy, and calming.
8 drops Cypress
8 drops Marjoram
8 drops Vetiver
6 drops Bergamot
Namaste
Namaste sets the stage for yoga, meditation, or prayer. Deeply grounding.
15 drops Lavender
10 drops Ylang Ylang
5 drops Patchouli
Sleep
As the name implies, good for bedrooms, for kids and adults.
12 drops Lavender
10 drops Serenity
8 drops Vetiver
Lavender
Lavender is super versatile. Use it anywhere and everywhere.
Anthropologie
This is my take on the popular Anthropologie store aroma. Fresh & inviting.
9 drops Siberian Fir
9 drops Grapefruit
9 drops Citrus Bliss
3 drops Lemon
Mint
This spray blend is crisp, clean, and energizing.
11 drops Peppermint
8 drops Eucalyptus
7 drops Spearmint
4 drops Rosemary
Clean
I use this blend anytime something is super stinky. Think wet dogs or sweaty kids.
12 drops Tea Tree
9 drops Lemon
9 drops Lime
Spice
Like you're baking something delicious. Your house will smell like home.
10 drops Cassia
10 drops Ginger
5 drops Cinnamon
5 drops Clove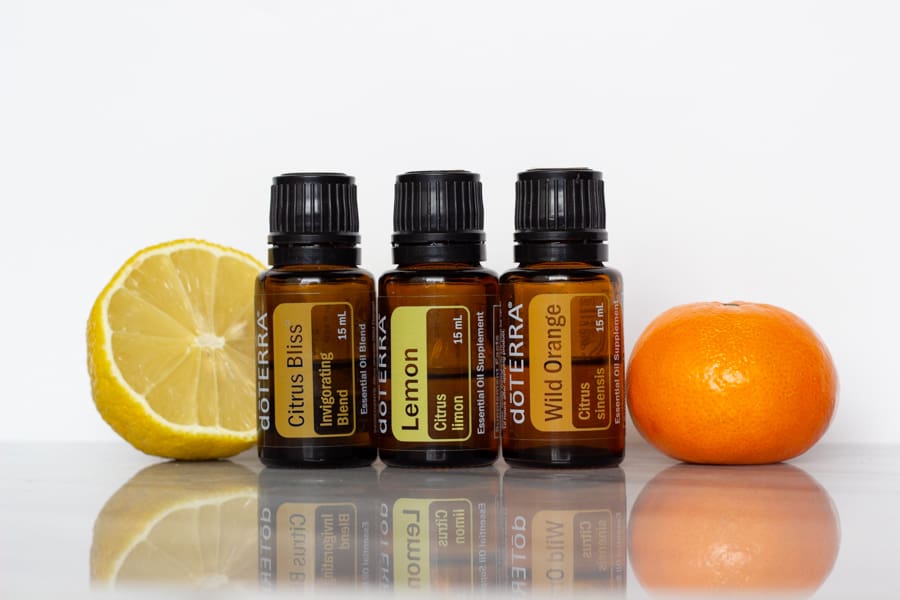 Labeling Your DIY Air Freshener
It's always a good idea to label what you've made so that everyone knows what's in the bottle. A pretty "Citrus Spray" labeled bottle in the guest bath is much more likely to be used than an unlabeled mystery bottle.
For my labels, I made some on Photoshop and printed them out on Avery Kraft labels. As an alternative to printed labels, you can also use a piece of Washi tape and just write the label with a permanent marker. I have to say, though, I'm really loving my square Kraft labels. Add a little twine and a homemade gift tag, and these will make very cute homemade gifts.
Yield: 4 ounces
How To Make Essential Oil Room Spray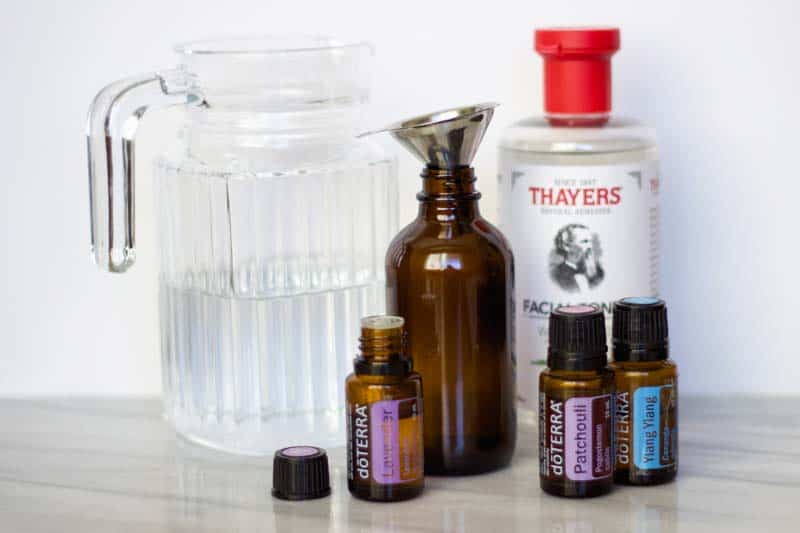 Use this DIY essential oil room spray to add subtle, natural and toxin-free fragrance in any room of your home.
Materials
30 drops of essential oils
distilled water
Tools
Instructions
Pour witch hazel into a 4-ounce glass fine-mist spray bottle. Use a funnel to eliminate spills.
Add about 30 drops of the essential oils of your preference (choose a blend from this post or create your own) to the witch hazel in the bottle. Swirl to combine.
Fill the rest of the bottle with distilled water, leaving enough space to replace the spray nozzle.
Gently shake to emulsify the solution. Spray into the air to fragrance your room as desired.
Notes
You can adjust the concentration of essential oils in this recipe to suit your preference.
---
Living more naturally happens over time in small steps, and making your own non-toxic room spray is a really cool move to make, so nice job! After you try it out, I'd love to find out what your favorite room spray blend is. Let me know in the comments.
Resources: EWG. "Toxic Fragrance in the Air." EWG, Environmental Working Group, 22 Aug. 2008, www.ewg.org/enviroblog/2008/08/toxic-fragrance-air.
To get the printable DIY Room Spray Blends, just sign up below.